Bridget Evans

Name in Japanese
ブリジット・エヴァンス
Romaji Translation
Burijetto Evansu
Debut (Anime)
Episode 10
Debut (Light Novel)
Volume 04 (Chapter 01)
Appears in
Light Novel, Anime
Voice Actor (Japanese)
Misaki Kuno
Personal Info
Gender
Female
Age
10
Height
151 cm
Weight
43 kg
Measurements
76/59/79
Occupation
Cosplayer
Bridget Evans (ブリジット・エヴァンス, Burijetto Evansu?) is the defending winner of the Stardust Witch Meruru cosplay competition in which Kanako Kurusu was forced to join. Bridget played the character Dark Witch Alpha Omega , Meruru's friend turned evil. She looked exactly like Al-chan, except that Bridget's eyes were blue, not purple.
Despite being British, she is known to speak in Japanese.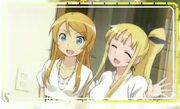 Ad blocker interference detected!
Wikia is a free-to-use site that makes money from advertising. We have a modified experience for viewers using ad blockers

Wikia is not accessible if you've made further modifications. Remove the custom ad blocker rule(s) and the page will load as expected.